Bungalow 4 rooms for sale in NBG Beim Schodenbrunnen - Ref. 6593587
buy detail
selling price fees included:
306,919 €
Type of mandate :
Exclusive
Availability : To be agreed
Description
Offenes luxuriöses Wohnen
Sie wollen sich den Traum vom Wohnen auf einer Ebene erfüllen? Bungalows sind unser Spezialgebiet. Ihre Wünsche und unsere Erfahrung: Die perfekte Kombination, um Ihren Bungalow zu bauen. Heinz von Heiden bringt die zahlreichen möglichen Bauweisen mit Ihren eigenen Vorstellungen in Einklang. Wir beraten Sie bei jedem Schritt umfassend und erarbeitet mit Ihnen gemeinsam die beste Lösung. Wir wissen, dass Ihr Hausbau der Einzug in ein neues Leben bedeutet und setzen jeden Stein Ihres Bungalows mit voller Tatkraft. Ihren Bungalow bauen wir in massiver und beständiger Bauweise, für maximalen Komfort und weil wir langfristig an die Zukunft Ihrer Familie denken.

Ruhige Wohnlage
Schön gelegenes Baugrundstück in einem attraktiven ruhigen Wohngebiet mit guter Anbindung an die A60

Individuelle Raumaufteilung
Einen Bungalow zu bauen, eignet sich für alle Menschen, die sich ein Eigenheim wünschen und dabei Wert auf eine großzügige und offene Gestaltung auf einer Ebene legen. Aber vielleicht benötigt auch einfach jemand in der Familie eine barrierefreie Umgebung. Mit einer barrierefreien Umsetzung eines Bungalows kann sich diese Person schnell mehr Selbstständigkeit zurückerobern. Oder Sie denken langfristig und wollen auch im Alter nahezu barrierefrei den Alltag bestreiten? Heinz von Heiden bespricht mit Ihnen gerne, auf welche Barrieren wir in diesen Fällen beim Bungalow–Bau verzichten können.

Weitere Informationen
BERATUNGSGESPRÄCH BEIM KUNDEN ODER BEI UNSEREM BAUHERRENFACHBERATER IN IRREL

Der gezeigte Preis versteht sich inklusive Grundstück und exklusive der Baunebenkosten.

Natürlich ist dies nur ein Beispiel unserer Auswahl.

Wir gestalten ihr Traumhaus komplett nach ihren Wünschen.

Weitere Grundstücke in verschiedenen Größen und mit unterschiedlichen Bebauungsmöglichkeiten sind vorhanden.
Ask for more information
Description of the situation
Bungalow 4 rooms for sale in NBG Beim Schodenbrunnen - Ref. 6593587, Rheinland-Pfalz
Specifications
Ref. on website : 6593587
Energy pass
Building type :
Residential
Contact Massivhausvertrieb VABI - A. Schäfer agency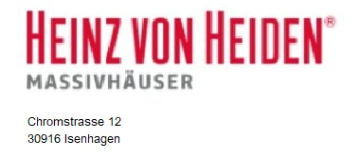 Massivhausvertrieb VABI - A. Schäfer
Provinzialstrasse 143
Germany
Show phone number
All properties of Massivhausvertrieb VABI - A. Schäfer
Website of Massivhausvertrieb VABI - A. Schäfer
Legal notice
Locate Bungalow 4 rooms
for sale

in

NBG Beim Schodenbrunnen

- Ref. 6593587, Rheinland-Pfalz *

* Warning: The exact address is not given then the center of the town is shown on the map
Contact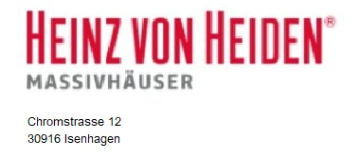 Massivhausvertrieb VABI - A. Schäfer
Provinzialstrasse 143
Germany
Show phone number
All properties of Massivhausvertrieb VABI - A. Schäfer
Website of Massivhausvertrieb VABI - A. Schäfer
Legal notice