Detached house 6 rooms for sale in NBG Beim Schodenbrunnen - Ref. 6072521
buy detail
selling price fees included:
335,942 €
Type of mandate :
Exclusive
Availability : To be agreed
Description
Gestalten sie ihr Traumhaus
Ihnen gefällt eine moderne Optik von Häusern? Aber auch ein durchdachter Grundriss ist Ihnen wichtig? Dann ist unsere Villa Arcus 150, eine moderne Stadtvilla mit Erker, genau das Richtige für Sie. Ein eleganter Look auf 145 qm und großzügiges Wohnen ohne Dachschräge auf zwei Vollgeschossen: Genügend Raum, damit Sie sich voll entfalten können. Dabei können Sie dank unserer praktischen Heinz von Heiden Systemarchitektur selbst zu großen Teilen sowohl die Raumaufteilung als auch die Fassadengestaltung selbst bestimmen. Wir stehen Bauherren und allen, die es werden wollen, seit Jahrzehnten kompetent zur Seite. Dabei profitieren Sie von unseren hohen Qualitätsstandards und wir arbeiten nur mit ausgesuchten Markenpartnern zusammen. Von der Planung bis zur Schlüsselübergabe Ihrer Stadtvilla mit Erker sind wir Ihr verlässlicher Partner beim Massivhausbau!

Stadtvilla mit Erker
Schinden Sie Eindruck! Zum Imponieren ideal: unser mächtig modernes Eigenheim-Modell Arcus 153 mit 154 qm. Bodentiefe Fenster und stilgebender Erker formen ein Bild für träumende Hausbau-Anwärter. Planen Sie die Details, so wie Sie es sich wünschen und holen sich einen erfahrenen Partner für Ihr Traumhaus-Projekt an die Seite! Als Partner zahlreicher Qualitätsmarken, steht Ihnen mit uns eine große Auswahl an Produkten zur Gestaltung Ihrer vier Wände zur Verfügung. Zusätzlich bekommen Sie mit unserem Bauherrenschutzbrief ein Sorglospaket. Machen Sie sich gerne selbst ein Bild und besichtigen Sie den Musterbau dieses !

Heinz von Heiden baut die Stadtvilla Arcus 153 sowohl mit Putzfassade als auch mit Verblendern für Sie.
Highlights
Offener Wohn- und Essbereich
Bodentiefe Fenster im Wohnzimmer
Lichtdurchfluteter Schlafbereich
Schlafzimmer mit Ankleide
Gästezimmer im Erdgeschoss

Weitere Informationen
Der gezeigte Preis versteht sich inklusive Grundstück und exklusive der Baunebenkosten.

Rundumsorglos-Service bis zur Schlüsselübergabe

Natürlich ist dies nur ein Beispiel unserer Auswahl.

Wir gestalten ihr Traumhaus komplett nach ihren Wünschen.

Weitere Grundstücke in verschiedenen Größen und mit unterschiedlichen
Bebauungsmöglichkeiten sind vorhanden.
Ask for more information
Description of the situation
Detached house 6 rooms for sale in NBG Beim Schodenbrunnen - Ref. 6072521, Rheinland-Pfalz
Specifications
Ref. on website : 6072521
Energy pass
Building type :
Residential
Contact Massivhausvertrieb VABI - A. Schäfer agency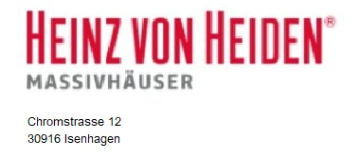 Massivhausvertrieb VABI - A. Schäfer
Provinzialstrasse 143
Germany
Show phone number
All properties of Massivhausvertrieb VABI - A. Schäfer
Website of Massivhausvertrieb VABI - A. Schäfer
Legal notice
Locate Detached house 6 rooms
for sale

in

NBG Beim Schodenbrunnen

- Ref. 6072521, Rheinland-Pfalz *

* Warning: The exact address is not given then the center of the town is shown on the map
Contact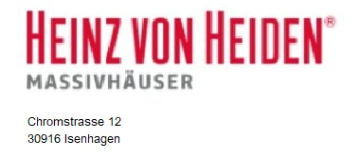 Massivhausvertrieb VABI - A. Schäfer
Provinzialstrasse 143
Germany
Show phone number
All properties of Massivhausvertrieb VABI - A. Schäfer
Website of Massivhausvertrieb VABI - A. Schäfer
Legal notice