Detached house 3 rooms for sale in NBG Beim Schodenbrunnen - Ref. 6072513
buy detail
selling price fees included:
262,235 €
Type of mandate :
Exclusive
Availability : To be agreed
Description
Unsere kleinste Stadtvilla...
...und trotzdem alles drin was das Herz begehrt! Das perfekte Zuhause für Familien, die viel Platz wünschen und auf nichts verzichten wollen. Der gehobene Standard des Arcus 90 verfügt über einen modernen offenen Wohn- und Essbereich und einen Hausanschlussraum der direkt über die Küche erreichbar ist. Ein wahres Tiny House samt Zeltdach mit 86,78 m², das bei einem quadratischen Grundriss knapp 7 m lang und breit ist und zudem über eine praktische Komfort-Elektroausstattung mit Netzwerkdosen verfügt. Lassen Sie Ihren Traum vom Eigenheim Realität werden, wie schon Zehntausende vor Ihnen es getan haben.

Heinz von Heiden baut die Stadtvilla Arcus 90 sowohl mit Putzfassade als auch mit Verblender für Sie.

Dieses unverwechselbare Heinz von Heiden Haus bieten wir auch als elegante Flachdach-Variante mit Verblender an.

Ausstattung / Highlights
Das gibt es bei uns inklusive
Bodenplatte
Luft/Wasser-Wärmepumpe
Lüftungsanlage
3-fach Verglasung
elektrische Rollläden
Fußbodenheizung
24 cm Außenmauerwerk
Außenzapfstelle

Wohnbereich mit offener Küche
gewendelte Treppe
Familienbad
Durchdachte Grundrissgestaltung
Kompakte Außenabmessungen

Gute Lage
Schön gelegenes Baugrundstück in einem attraktiven ruhigen Wohngebiet mit guter Anbindung an die A60

Weitere Informationen
BERATUNGSGESPRÄCH BEIM KUNDEN ODER BEI UNSEREM BAUHERRENFACHBERATER IN IRREL

Der gezeigte Preis versteht sich inklusive Grundstück und exklusive der Baunebenkosten.

Natürlich ist dies nur ein Beispiel unserer Auswahl.

Wir gestalten ihr Traumhaus komplett nach ihren Wünschen.

Weitere Grundstücke in verschiedenen Größen und mit unterschiedlichen Bebauungsmöglichkeiten sind vorhanden.
Ask for more information
Description of the situation
Detached house 3 rooms for sale in NBG Beim Schodenbrunnen - Ref. 6072513, Rheinland-Pfalz
Specifications
Ref. on website : 6072513
Energy pass
Energy pass year of creation :
2021
Building type :
Residential
Contact Massivhausvertrieb VABI - A. Schäfer agency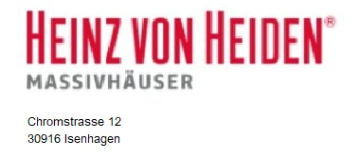 Massivhausvertrieb VABI - A. Schäfer
Provinzialstrasse 143
Germany
Show phone number
All properties of Massivhausvertrieb VABI - A. Schäfer
Website of Massivhausvertrieb VABI - A. Schäfer
Legal notice
Locate Detached house 3 rooms
for sale

in

NBG Beim Schodenbrunnen

- Ref. 6072513, Rheinland-Pfalz *

* Warning: The exact address is not given then the center of the town is shown on the map
Contact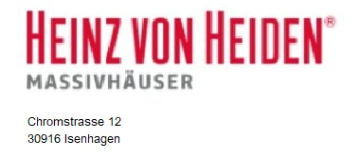 Massivhausvertrieb VABI - A. Schäfer
Provinzialstrasse 143
Germany
Show phone number
All properties of Massivhausvertrieb VABI - A. Schäfer
Website of Massivhausvertrieb VABI - A. Schäfer
Legal notice