Detached house 5 rooms for sale in Hauptstrasse - Ref. 6075289
buy detail
selling price fees included:
308,724 €
Type of mandate :
Exclusive
Availability : To be agreed
Description
Haus mit offener Diele
Nicht zu groß und nicht zu klein soll Ihr Haus sein? Unser Modell Einfamilienhaus Alto 741 entspricht dann sicher ganz Ihren Vorstellungen vom Einfamilienhaus. Auf großzügig angelegten 170 qm bleibt kein Wunsch offen. Zwei Geschosse bieten Platz für mehrere Bäder, zwei Kinderzimmer und einen großen Wohn- und Essbereich. Erker, Gaube, überdachte Terrasse? Für alle weiteren Ausstattungsoptionen müssen Sie einfach mit uns planen. Für den Bau Ihres Hauses arbeiten wir nur mit Markenherstellern zusammen. Seit 1931 steht Heinz von Heiden für Qualität und Kundenzufriedenheit – von der ersten fachmännischen Beratung bis hin zur Schlüsselübergabe.
Aus einer großen Diele erhaschen Sie schon einen Blick auf einen hellen Essbereich, der zum Verweilen einlädt. Familienleben wird groß geschrieben, in diesem Haus, in dem Küche, Essbereich und Wohnzimmer ineinander übergehen. Gelangen Sie an lauen Sommerabenden direkt aus der Küche auf die Terrasse, um hier gemütlich ein Glas Wein zu trinken. Im Zentrum des Hauses verbindet eine zur Hälfte gewendelte Treppe beide Geschosse und sorgt für kurze Wege.
Unsere Häuser in Massivbauweise errichten wir immer in unserer bewährten Heinz von Heiden Systemarchitektur. Dadurch profitieren Sie von individuellen Ausstattungsoptionen. So verfügt Ihr Elternschlafzimmer auf Wunsch über eine Ankleide Ihre Küche über eine zusätzliche Tür direkt in den Hauswirtschaftsraum. Des Weiteren kann ein beliebiges Zimmer mit einem Balkon ausgestattet werden.
Genügend Platz für die ganze Familie
Offenes Raumkonzept im Erdgeschoss
Extra-Raum im Erdgeschoss für Gast, Hobby oder Home-Office

Individuelle Planung des Grundrisses

Bauart Fundamentplatte, Putzfassade, Massivbauweise

Darauf können sie bauen:
Massivhausbauer seit über 86 Jahren
Materialien von deutschen Qualitätsmarken
Faires Preis-Leistungsverhältnis
Rundumsorglos-Service bis zur Schlüsselübergabe
Individuelle Planung des Grundrisses.

Ebene Wohnlage.
Voll erschlossenes Grundstück, in leichter Hanglage, Garten hinter dem zu bauenden Haus in sonniger Südwestlage. Vom Grundstück haben Sie einen herrlichen Blick auf die umliegenden Felder und Wälder.

Lagebeschreibung
Im kleinen, ruhigen Dorf Altscheid leben rund 100 Einwohner. Die Gemeinde besitzt eine Gesamtfläche von 5 km². Bitburg liegt ca. 12 km und Echternach ca. 32 km entfernt.


Weitere Informationen:

BERATUNGSGESPRÄCH BEIM KUNDEN ODER BEI UNSEREM BAUHERRENFACHBERATER IN IRREL

Der gezeigte Preis versteht sich inklusive Grundstück und exklusive der Baunebenkosten.

Natürlich ist dies nur ein Beispiel unserer Auswahl.

Wir gestalten ihr Traumhaus komplett nach ihren Wünschen.

Weitere Grundstücke in verschiedenen Größen und mit unterschiedlichen Bebauungsmöglichkeiten sind vorhanden.
Ask for more information
Description of the situation
Detached house 5 rooms for sale in Hauptstrasse - Ref. 6075289, Rheinland-Pfalz
Specifications
Ref. on website : 6075289
Energy pass
Building type :
Residential
Contact Massivhausvertrieb VABI - A. Schäfer agency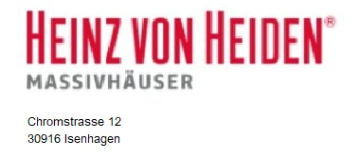 Massivhausvertrieb VABI - A. Schäfer
Provinzialstrasse 143
Germany
Show phone number
All properties of Massivhausvertrieb VABI - A. Schäfer
Website of Massivhausvertrieb VABI - A. Schäfer
Legal notice
Locate Detached house 5 rooms
for sale

in

Hauptstrasse

- Ref. 6075289, Rheinland-Pfalz *

* Warning: The exact address is not given then the center of the town is shown on the map
Contact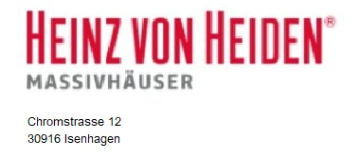 Massivhausvertrieb VABI - A. Schäfer
Provinzialstrasse 143
Germany
Show phone number
All properties of Massivhausvertrieb VABI - A. Schäfer
Website of Massivhausvertrieb VABI - A. Schäfer
Legal notice